[vc_row][vc_column width="2/3″][vc_column_text]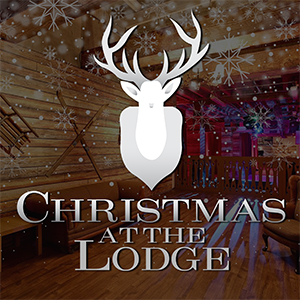 As guests enter the venue they find themselves deep in the forest where guests begin their evening with a
sparkling reception.
As the stunning Northern Lights effect grabs your attention, you'll discover the sounds and scents of the forest mingled with beautiful lighting, imaginative interior design and
great music to make this reception a memorable beginning to an unforgettable evening.
When the call for dinner is made, turn the corner and find yourself at the entrance to the main attraction – Christmas at the Lodge!
Pass through the traditional chalet exterior and descend into your very own authentic alpine hunting lodge.  From gingham draped tables to timber panelled walls, vintage skis to stag heads, its all here to transport you and your guests from the spellbinding magic of the forest to your very own mountain hideaway.
A three course seated dinner will be served before the party begins and guests enjoy music from the Lodge band and disco until midnight! Guests can also jump on the Alpine arcade, ride the rodeo reindeer or enjoy the delights of our chocolate fountain!
Join us at the Lodge for a night to remember![/vc_column_text][dt_gap height="20″][dt_small_photos autoslide="50″ loop="true" category="lodge"][dt_gap height="20″][vc_text_separator title="Dates and Prices"][go_pricing id="cirque_568_5c406974b3f39″][dt_gap height="20″][vc_text_separator title="Party Location"][dt_gap height="20″][vc_gmaps link="#E-8_JTNDaWZyYW1lJTIwc3JjJTNEJTIyaHR0cHMlM0ElMkYlMkZ3d3cuZ29vZ2xlLmNvbSUyRm1hcHMlMkZlbWJlZCUzRnBiJTNEJTIxMW0xOCUyMTFtMTIlMjExbTMlMjExZDYyMC42NjgyMjg4MDIyMTEzJTIxMmQtMC4xMjIwNDg2OTk5OTk5ODM5NyUyMTNkNTEuNTE5MjE2NSUyMTJtMyUyMTFmMCUyMTJmMCUyMTNmMCUyMTNtMiUyMTFpMTAyNCUyMTJpNzY4JTIxNGYxMy4xJTIxM20zJTIxMW0yJTIxMXMweDQ4NzYxYjM0MTQyMDUzOWIlMjUzQTB4NDBlYmYyMjJjMmIxZmIyYiUyMTJzVmljdG9yaWElMkJIb3VzZSUyNTJDJTJCQmxvb21zYnVyeSUyQlBsJTI1MkMlMkJMb25kb24lMkJXQzFBJTJCMkVCJTIxNWUwJTIxM20yJTIxMXNlbiUyMTJzdWslMjE0djE0Mzg4NzgwMTE2ODglMjIlMjB3aWR0aCUzRCUyMjYwMCUyMiUyMGhlaWdodCUzRCUyMjQ1MCUyMiUyMGZyYW1lYm9yZGVyJTNEJTIyMCUyMiUyMHN0eWxlJTNEJTIyYm9yZGVyJTNBMCUyMiUyMGFsbG93ZnVsbHNjcmVlbiUzRSUzQyUyRmlmcmFtZSUzRQ==" size="400″][/vc_column][vc_column width="1/3″][vc_text_separator title="What's Included"][dt_gap height="20″][dt_vc_list]
Exclusive Company Tables
Prosecco reception
Three course seated dinner
Tea, coffee and mints station
Alpine Arcade
Rodeo Reindeer
Live Party Band
Chocolate Fountain
Disco and DJ
The Lodge Theming and Production
Complimentary cloakroom
Full event management
[/dt_vc_list][dt_gap height="20″][vc_text_separator title="Drinks Packages"][dt_gap height="20″][vc_column_text]
Unlimited beers, wines and soft drinks
£38 + VAT per person
(Please note this package must be bought for all members of your party).
Drinks package "spirit add on" – 4 single spirit and mixer tokens.
£15 + VAT per person
(available when purchased with unlimited package)
Drinks voucher – £5 inc VAT each
Exchangeable for a wine, beer or single spirit and mixer
[/vc_column_text][dt_gap height="20″][vc_text_separator title="Party Menu"][dt_gap height="20″][vc_column_text]Wintery tart of butternut squash, red onion marmalade and spinach served with a delicious roasted red pepper and sun-blushed tomato pesto and a micro herb salad (v)
-o0o-
Succulent supreme of chicken with a smoked paprika crumb and garlic and parsley butter, accompanied by a horseradish rosti and a side serving of chantenay carrots, kale and green beans.
Gourmet coconut curry of sweet potato and pak choi served with wild basmati rice (V)
-o0o-
Warm, rich chocolate brownie served with Chantilly cream and a raspberry dusting (V)
-o0o-
Coffee, tea and mints
Served from coffee station
Please note we cannot guarantee our meals are 100% free from traces of nuts
Dietary requirements notified in advance will be catered for. Kosher meals available for extra charge.[/vc_column_text][dt_gap height="20″][vc_text_separator title="Venue Address"][dt_gap height="20″][vc_column_text]
Christmas at the Lodge
Victoria House
Southampton Row
London
WC1B 4DA
[/vc_column_text][/vc_column][/vc_row]