[vc_row][vc_column width="2/3″][vc_column_text]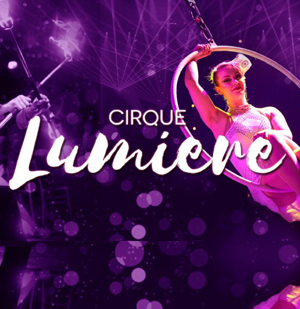 New for 2018, run away and join us at the Cirque Lumiere – a spectacular extravaganza of circus delights!
Marvel at the amazing entertainment performing overhead whilst you feast on a delicious dinner, before enjoying all that Cirque Lumiere has to offer – a sparkling reception, amazing acts and a party to remember.
Enjoy the most fantastical party in town this Christmas, where we invite you to gaze in amazement at the unusual artists of the circus world.
After enjoying a sparkling reception in the VIP reception area finally, the moment has arrived, as guests are led through the illuminated walkway to the Big Top. The dazzling lights of the venue shimmer like stars in a midnight sky, as you make your way to your tables, decorated with stunning centerpieces.[/vc_column_text][dt_gap height="20″][dt_small_photos autoslide="50″ loop="true" category="cirque"][dt_gap height="20″][vc_column_text]Above your heads swing dramatic acrobats on hoops and silks, and during your sumptuous dinner, entertainers rotate around the Big Top, showcasing their skills.
Dinner is a delicious 3-course meal provided by our award-winning, in-house caterers, accompanied by a variety of drinks packages options. After your sumptuous dinner, guests have a wealth of entertainment at their disposal, from roulette to black jack; or simply jump on the dance floor and enjoy the best music from our top DJ.
Don't forget to have your picture taken in our themed Photo Zone, the perfect way to remember the night. So join us this festive season at Cirque Lumiere the hottest party in town inside the only Big Top in the heart of London.[/vc_column_text][dt_gap height="20″][vc_text_separator title="Party Location"][dt_gap height="20″][vc_gmaps link="#E-8_JTNDaWZyYW1lJTIwc3JjJTNEJTIyaHR0cHMlM0ElMkYlMkZ3d3cuZ29vZ2xlLmNvbSUyRm1hcHMlMkZlbWJlZCUzRnBiJTNEJTIxMW0xNCUyMTFtOCUyMTFtMyUyMTFkOTkyOS40OTQ2ODgzMzI4MTQlMjEyZC0wLjEyMDM3NzUlMjEzZDUxLjUyNDcwNTglMjEzbTIlMjExaTEwMjQlMjEyaTc2OCUyMTRmMTMuMSUyMTNtMyUyMTFtMiUyMTFzMHgwJTI1M0EweDc0MDllOTFjZjhlMWY5YWYlMjEyc0Jsb29tc2J1cnklMkJCaWclMkJUb3AlMjE1ZTAlMjEzbTIlMjExc2VuJTIxMnN1ayUyMTR2MTQzODE4NjEzMjYyMiUyMiUyMHdpZHRoJTNEJTIyNjAwJTIyJTIwaGVpZ2h0JTNEJTIyNDUwJTIyJTIwZnJhbWVib3JkZXIlM0QlMjIwJTIyJTIwc3R5bGUlM0QlMjJib3JkZXIlM0EwJTIyJTIwYWxsb3dmdWxsc2NyZWVuJTNFJTNDJTJGaWZyYW1lJTNF" size="400″][/vc_column][vc_column width="1/3″][vc_text_separator title="Sample Package"][dt_gap height="20″][dt_vc_list]
Exclusive Venue Hire
Prosecco reception
Three-course seated dinner or bowl food menu
Drinks Packages available
Tea, coffee and mints station
Aerial Acts
Stilt Walkers
Fire Act
Martial Arts Show
Paper Artist
Stage Performances
Casino Tables
Photobooth
Disco and DJ
Cirque Lumiere Theming & Production
Complementary cloakroom
Full event management
[/dt_vc_list][dt_gap height="20″][vc_text_separator title="Venue Address"][dt_gap height="20″][vc_column_text]
The Bloomsbury Big Top
Coram's Fields
93 Guilford Street
London
WC1N 1DN
Nearest station: Russell Square/Kings Cross/Euston[/vc_column_text][dt_gap height="20″][/vc_column][/vc_row]